What is "Process Before Login"?
How many CRMs, shopping carts, landing page platforms, and marketing automation tools have you signed up since you've been in business?
Since 2008 I've been certified in several tools, including Ontraport, Hubspot, and Infusionsoft to help business owners and entrepreneurs make the right decision for your sales goals.
The one thing EVERY...SINGLE...CRM has in common is that they are only as good as what you program them to do!
Plan Before You Buy Your CRM
That's why I have all of my clients start with pen and paper or a white board or even a Word document and outline what you'd like to have happen before you start messing around with software.
This must happen BEFORE you log into your software, which is why I call this The Process Before Login.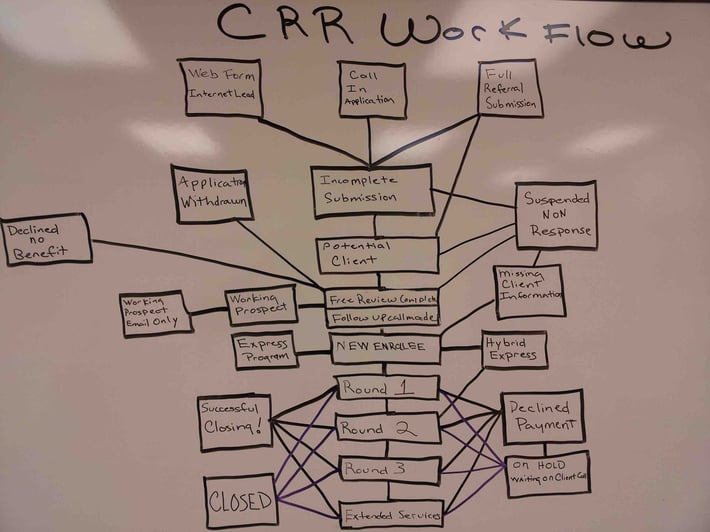 How do you do this?
Process Before Login EXAMPLE
Imagine you want to promote a "Public Speaking System" and you want to usa a CRM + Inbound Sales platform to automate the entire process. Here's what you need...
WEBINAR PROMOTION:
AFTER the WEBINAR

Follow-up is key. To maximize sales you must incorporate multi-media, multi-touch follow-up marketing. Time kills deals! Thus:
Deliver a "New Customer Welcome and Wow" sequence, including a welcome email, receipt, login / download instructions, etc.
Deliver an "Attended But Did Not Buy" sequence. Reitterate the value and consider including tools such as coupons with short expiration dates.
Deliver a "Registered But Did Not Attend" sequence. Show them what they missed by not attending. Send a link to the webinar and offer them the same bonuses if they buy now. Then route them into the "Attended But Did Not Buy" sequence. Maybe consider a "down-sell" offer if price is a concern.
We could go on forever but you get the point. This is the EXACT process I follow with every client I've helped to automate their inbound sales for years. In fact, my CPA and friend here in Temecula, CA is implementing his own webinar sequence just like this as I update this page.
Now I'd like to extend an invitation for you to start working with me one-on-one on understanding which is the best CRM for you, and get on-board with the tool to start drafting that P.B.L. for your own business.
By working together and choosing the right tool, we can have automation work for you, and help you save hours of work that you could use for other tasks.
Check out the example below of a sequence I generated and sell through Infusionsoft!
Imagine creating multiple sequences, automating all of your processes and marketing / sales efforts. Can you even imagine how many leads you could get and convert through this system?
Start TODAY!
Get your own Process Before Login template by completing the the form here and allow me to help you automate, integrate, and dominate your inbound sales.
Sign up today and get my Make Every Sale flowchart PDF as an example along with a blank sheet for you to use when you create your own process.
Good Selling,